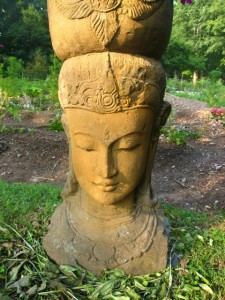 In addition to my work as a writer and consultant, I am a registered yoga teacher. Currently, I teach at Sacred Well Yoga Studio in Falls Church and Tuckahoe Recreation Club in McLean, Virginia. I teach Iyengar-influenced hatha yoga with an emphasis on alignment and safety in the poses.
I began my study of yoga after back pain led six nurse friends to tell me, "You should take yoga!" After the sixth person tells you something, you start to think, "Hmm. Maybe I should." I was delighted to find that not only did yoga help my body, but also my mind and spirit.
Several years after starting my personal practice, I completed a year-long training program and began teaching. I continue to study weekly with John Schumacher, a senior Iyengar teacher and founder of Unity Woods Yoga Center. I especially enjoy teaching beginning and older students to share my enjoyment in the healing effects of a yoga practice.
I am often asked by my yoga students for resources to use in their home practice. The following are some books that my be helpful:
Books on Asana
"Yoga the Iyengar Way," by Silva, Mira and Shyam Mehta
"Yoga: The Spirit and Practice of Moving into Stillness," by Erich Schiffmann
"30 Essential Yoga Poses," by Judith Lasater
Books on Yoga Philosophy
"Light on Life," by B.K.S. Iyengar
"The Tree of Yoga," by B.K.S. Iyengar
"The Bhagavad Gita"
"Practical Yoga Psychology," by Dr. Rishi Vivekenanda
Erich Schiffmann's book also covers yoga philosophy in a very accessible way
General Philosophy
Tao te Ching, Stephen Mitchell, trans.
"The Way of Chuang Tzu," Thomas Merton
"Wherever You Go, There You Are," by Jon Kabat-Zinn
There are many other possibilities. A trip to the library to look at their sections on yoga and philosophy can be very rewarding!
Music
Students also frequently ask about the music I play during class. These are some of my favorite artists and albums.
Dean Evenson, all albums but particularly "Dreamstreams" and "Healing Sanctuary"
Deuter, all albums but especially "Sea & Silence" and "East of the Full Moon"
Liquid Mind, any album (all are much alike)
Prem Joshua, "Water Down the Ganges" and "Taranga"
Steve Gorn, "Colors of the Mind"
Anoushka Shankar, "Rise"
Jalan Jalan, "Bali"
Anugama, "Shamanic Dream", "Tantra" and "Jungle of Joy"