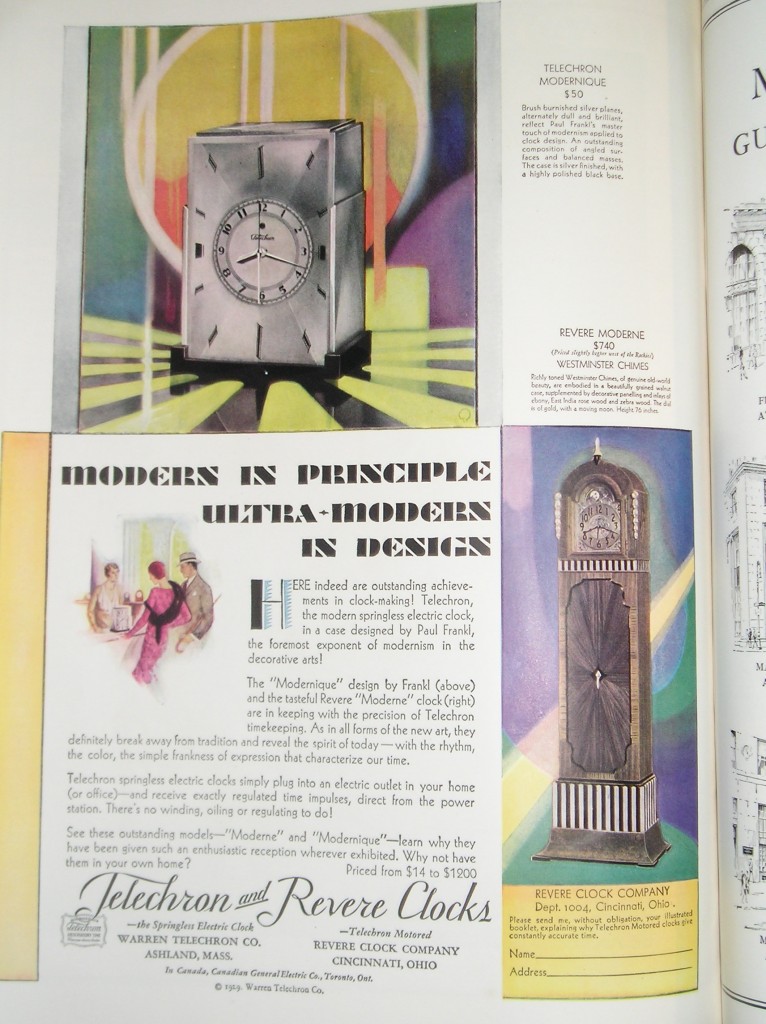 This ad is from the October 1929 issue of Vanity Fair magazine. I seized this copy in a junk shop years ago, and have treasured it ever since. Knowing what happened at the end of that pivotal month, I read the articles and advertisements with fascination for a vanished moment of prosperity and modern aspiration. It also intrigues me by raising the question, what is modern?
In some ways the content of the magazine is surprisingly familiar. Vanity Fair was a magazine with a mixture of coverage of the arts and popular entertainment. There are photos of film stars, including Greta Garbo, Claudette Colbert, Conrad Veidt and others. Whereas now Vanity Fair relies on Annie Leibovitz and Herb Ritts as house photographers, the luminaries of those days were captured by Edward Steichen. Their styles are not at all dissimilar. Steichen created dramatically posed portraits with studio lighting and few props. Liebovitz uses more props, but the drama and artificiality of her photos have very similar effect.
But there are other, higher-culture elements that don't seem so familiar. New York stage stars receive the same adulation as movie actors. The literary contributions seem to have aged the most noticeably. Essays from Aldous Huxley, Sherwood Anderson and Harold Nicolson are dated in both style and subject. A piece by Paul Geraldy includes the aphorism, "You ask everything from your wife. But do not ask too much…I have been happy in love since I realized that a woman could never be an intellectual comrade."
The advertisements are the best part. They are gorgeous things, with lavish illustrations and carefully composed typography. They sell with a combination of snobbery and style. Most of the high-end brands are very familiar: Van Cleef & Arpels, Tiffany, Johnston and Murphy shoes, Gorham silver, Abercrombie & Fitch, Guerlain perfumes. There are many ads for "modern" electric tools and conveniences, with technology easily recognizable even eighty years later. The desirable gadgets include clocks, radios, refrigerators, vacuum cleaners, cameras and telephones.
Automobiles are more of a mixed bag. While survivors such as Cadillac, Ford and Buick are represented, so are others that are familiar only because they are associated with bygone luxury: Pierce Arrow, Packard, Deusenberg. And clothes have changed so much that whole categories of garment are now gone. While magazines today still advertise scarves, shoes and coats, I am charmed by the ads in here for the vanished elegance of spats, suspenders and hats.
Most things are advertised with a strong whiff of snob appeal, which can have laughable results when the modern reader hits some unfamiliar product names: "A long run and a fast fox…then back for coffee and bacon, talk and Spud cigarettes!" No, I'm not making this up—look here: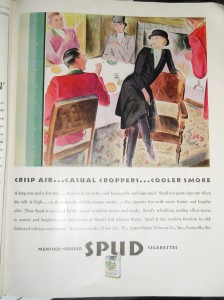 Seven years after this issue, the magazine folded. The market for these pricey consumer goods had shrunk during the depression and the public's interest in this kind of frothy mixture of art and literature had waned. Vanity Fair as a title was dead until 1983, when it was successfully revived for readers enjoying the prosperity and pretension of the Reagan years.